A World of Possibilities
"The world is full of abundance and opportunity, but far too many people come to the fountain of life with a sieve instead of a tank car... a teaspoon instead of a steam shovel. They expect little and as a result they get little."
Dear Friend -
Author Ben Sweetland wrote those words in 1962 and they still ring as true as they did the day he wrote them.
How about you? What vessel are you filling at the fountain of life?
Whatever it is, I hope it's big and worthy of all that you are – because you deserve it. Yet for many people, this issue of deservingness is a point of confusion.
They don't understand that it's their birthright to have everything life has to offer. You deserved it the day you were born.
Given this, what is it that prevents people from accessing the abundance that is rightfully theirs?
I believe the answer is found in these 10 principles, which I first wrote about in my blog (www.mrfire.com) prior to the release of my audio program, "The Abundance Paradigm: Moving from the Law of Attraction to the Law of Creation Wealth."
They're my observations about how you can attract personal and planetary wealth – and how I went from homeless to multi-millionaire.
Of course, abundance is more than money, so these ideas are more sweeping than you may at first realize.
Abundance is about living in a world of possibilities – and acting quickly on the ones that divinely inspire you. There's only one thing that can stop you…your own mind. Fortunately, you can change that.

With this little book, The Abundance Manifesto, you can expand your own capacity to receive all the good things in life – and throw away that teaspoon.
Once and for all.
Why not fill out the form and see for yourself?
Expect Miracles!
Love
Joe
Dr. Joe Vitale
www.MrFire.com
Member BBB 2003-
PS - For more information about Miracles Coaching®, please see http://www.MiraclesCoaching.com
Tell a friend and share this great site with others.
Dr. Joe Vitale, a star in the hit movie "The Secret," bestselling author of The Attractor Factor and Zero Limits, television guest star on Larry King Live and CNN, ABC, FOX, etc., is the world's first self-help singer songwriter.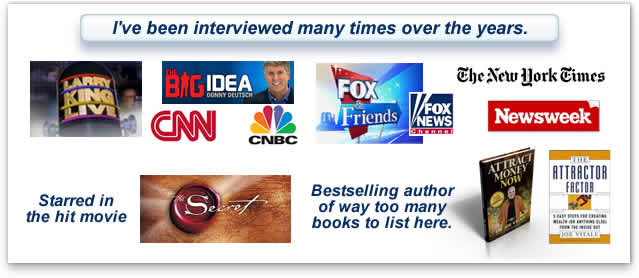 Media and Performance Requests Contact:
Email Joe's booking agent: Caroline@MrFire.com
or call 888-743-2824 opt 3
Services are provided by Acheive Today, Inc., which has been selected by Joe Vitale to provide education and guidance throughout your program.
© Copyright 2000 - Hypnotic Marketing, Inc., (All rights reserved)
Hypnotic Marketing, Inc., P.O. Box 2924 Wimberley, TX 78676-2924 - (888) 743-2824
Legal Disclaimer - Privacy Policy - Terms of Service

Customer Service: The Hypnotic Marketing Customer Care Center.
Give us a call at (888) 743-2824 option 2 or send us an email at Support@MrFire.com